Pick-to-light

Wat is Pick-to-Light?
Turck Pick-to-Light oplossingen bieden de operators een visuele indicatie aan van het noodzakelijke onderdeel in een assemblage proces. Acties (goed of fout) worden aangegeven met behulp van lampen en optioneel geluidsignalen. Voltooide handelingen kunnen automatisch of handmatig worden bevestigd.
Turck Pick-to-Light: Complete oplossingen voor industriële assemblage en picking applicaties
Alle componenten in Turck Pick-to-Light systemen sluiten perfect op elkaar aan en waarborgen een snelle en betrouwbare installatie en onderhoud.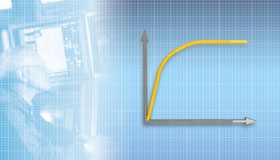 Proces optimalisatie
Visueel proces management opent mogelijkheden voor proces verbetering:
Verbeterde flexibiliteit; personeel heeft bijna geen training nodig
verbeterde en contante proces kwaliteit
Kwaliteitsmanagement en controle mogelijk door het loggen van het proces.
Interfaces met magazijn controle systemem en ERP systemen
Drastische tijdsreductie van installatie, inbedrijfstelling en onderhoud
Virtuele 100% foutloze installatie
Pick-to-Light oplossingen van Turck zijn gebaseerd op IP67 componenten waardoor een robuuste, snelle en foutvrije installatie mogelijk is zonder het gebruik van een schakelkast. De plug-and-play IP67 oplossing resulteert in gereduceerde installatie tijden met een daaraan gekoppelde bijna 100% foutloze installatie met een drastische reductie van de loonkosten. Oplossingen gebruik makend van IP20 componenten zijn op aanvraag ook beschikbaar.
Dankzij een modulaire hardware en software benadering kunnen klantspecifieke oplossingen kant en klaar tegen lage kosten op klantwens gerealiseerd worden. Onze ervaring op dit gebied en onze mogelijkheid alle componenten voor de gehele oplossing aan te bieden, verzekeren dat alle componenten perfect op elkaar aansluiten.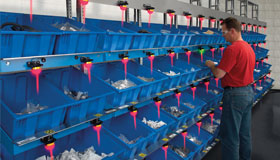 Pick-to-Light Products
Follow these links to find your Pick-to-Light product in our product database